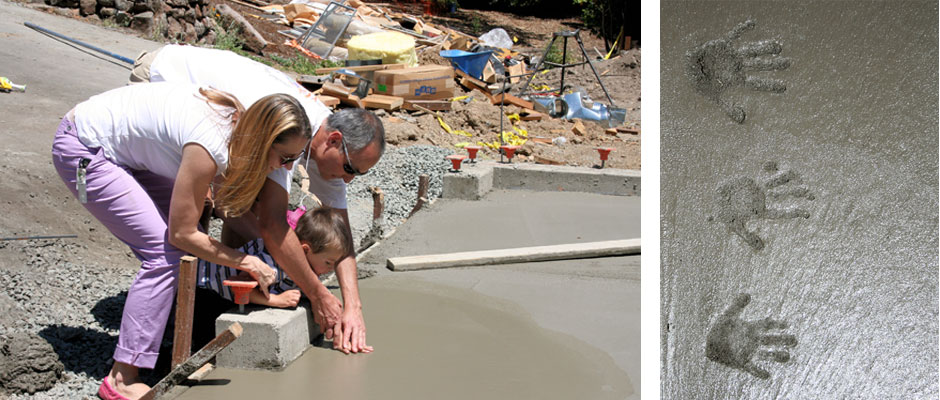 "We just finished our second project with KW Builders. Jeff & Matt have been very easy to work with. We did an extensive addition 9 years ago and every time there was a surprise (as you can expect with these older homes!), Jeff & Matt always came up with a creative solution. They work with quality subcontractors, provide helpful timelines, and keep you on track of your responsibilities as the homeowner. The project turned out beautiful! With Jeff's vision & common sense, we got a fantastic playroom ànd gained an extra bedroom. We got lucky this year: KW Builders had time to remodel our master bathroom. We did not use a formal design, just presented some photos of what we liked. Jeff was able to draw up the plans and it turned out just as we visioned. Another good experience! We highly recommend KW Builders and will use them again on our next project."
Anouschka Wardy, 2020
"We've used KW three times over the past eight years ultimately remodeling nearly all of our house, and they've always done an amazing job that exceeded our expectations. Jeff gave us sound advice on how to stretch our budget for the maximum impact, and his design input is excellent. We were comfortable with all the people who worked on our home being around our family and small children, and everyone on the crews worked meticulously to ensure we got a top quality job. KW came in on time and on budget in all three instances, and they found nifty solutions to a few of the headaches the construction uncovered. Communications are outstanding, and Jeff's attention to detail and commitment to long lasting construction surpass even my own high standards. In fact, we've been so spoiled by KW's professionalism that it has made our interactions with other contractors difficult when they couldn't live up to the same standard. Without hesitation I recommend KW for any project."
Jeff and Lisa Lyon, 2019
"We spent over two years with our architect, Ward & Young, working to perfect our plans for a home that we wanted to live in for the rest of our lives. Importantly, we interviewed several home builders who had the reputation and integrity for being able to build our Greene & Greene style home. We selected KW Builders for its passion, creativity and value-conscientious approach to embracing our project. Throughout our experience of working with Jeff and Matt (and all of the KW team and its high caliber subcontractors!), the work, product, and process exceeded our expectations! God forbid our house ever burns down, but it's a given that we would re-build it with KW Builders in a heartbeat. We love those guys!"
Tyler and Sierra Higgins, 2015
'
Our experience with KW Builders in 2015 and 2016 was incredibly positive. Our eight month project started on-time and finished the same week it was projected to be completed, despite some significant changes we requested after the project began. Our project allowed us to live in 1/3 of our existing space while KW worked their magic on the addition of new space and conversion of existing space. As a family of four, we greatly appreciated KW's 'can-do' attitude when it came to setting up temporary kitchen space, keeping necessary utilities on-line, and ensuring our house was as secure & dust-protected as possible. Jeff and Matt exhibited great communication throughout the project, whether trouble-shooting, or introducing ideas around finish carpentry, or floor plan ideas we had not yet considered. We also found their relationship with their subs to be very positive and very client-focused, ensuring that KW Builders high standards were held by everyone who worked on our project. The results are reflective of that fact. Working with KW was the best decision we could ever have made.
Catherine and David Habas, 2016
I recently worked with KW Builders on a major custom home in Lafayette. I was very pleased with the results. They communicated well, are very efficient and detail oriented. Their work is top quality. They are fun to work with on a project!

Sandra Brown Interior Designer, 2015

We loved working with KW Builders. Jeff and Matt are great at managing the schedule and the budget and their communications is excellent! Although we had plans from an architect, things came up and they were able to guide us to some practical solutions without compromising aesthetics. Working with them made going through a major house renovation easier than we anticipated. We are thrilled with the end result! We recommend them without hesitation.

Zak and Monica Stassi, 2014
Thank you for making our dream house come true! It was a true pleasure to work with you and your subcontractors. Brian and I were impressed by your superb workmanship, remarkable attention to detail, and uncompromising standards of quality. We thought the owner's decision log was a great way to keep us on track, and frequent schedule updates were helpful too. We appreciated the open and constant dialogue we maintained throughout the project. We also valued creative design solutions and ideas you had along the way.

Marina and Brian Chinn, 2013
Jeff and Matt were great to work with. Along with doing all the big things you want a contractor to do, they did all the small things we didn't realize we needed done. They had a great eye for detail and made suggestions to avoid problems and improve our home's design.

Paul & Libby Sagara, 2013
KW Builders are the best contractors we have experienced. I would hire them again, for sure, and recommend them to all my friends. They do quality work and manage the whole process seamlessly. They truly care about their work, and your job!

Wendy & Steve Pratt, 2012

KW Builders, staff and subcontractors went out of their way to please us. Jeff and Matt are both experienced, creative, conscientious and clearly go the extra mile to ensure an outstanding product. They clearly try to understand the client so that their counsel suits your needs. ie: their masterbath, kitchen and patio designs. I was amazed at their masterful orchestration of our project...keeping track of changes, all the additions and every detail to bring it all together on time! And, they didn't disappear once we moved in, but assured us they would be back whenever needed, to see that everythings was as we expected it to be. We unequivocally recommend KW Builders, and will contact them for future projects.

Caroline Kelley & Jim Noe, 2011
We had a fantastic experience with KW Builders and would eagerly recommend them. We involved KW during the design phase, which helped to avoid surprises when we moved to bid, then build. Once we moved into the build phase, Jeff Wendt was our main contact. The build phase was effectively on time and on budget - the most important thing you can say about a contractor. There were some changes to scope as either Jeff or we brought up options, typically things that were opportunities to make the house even better than the design. These changes were able to be worked into the existing timeline at reasonable costs.
The best part of the project was Jeff's consistently pleasant demeanor that was also reflected in the subcontractors KW brings to their projects. Homeowners can get worked up on such a big project, but Jeff's great approach to the project and homeowner relationship makes it easy to get through a project, while having a good time.
If you like details and project plans, KW Builders is a great fit as their detailed budgets and timelines (updated periodically as you go through the project) provide the transparency you need during planning and execution.
This is our third house build, so we have the experience to know that our awesome project with Jeff and KW Builders was fantastic.
Steve Love, 2016
KW Builders are the most conscientious, timely, and professional contractors we have ever worked with. We look forward to working with Jeff and Matt on future construction projects.

Lee & Robert Berg, 2009

We found KW Builders to be creative, detailed, focused and price conscious, which exceeded our expectations. We can not wait to work with them again.

Cory and Gretchen Higgins
2009, 2011, 2012

We would recommend KW Builders without hestitation. They provided professional, fair, timely and high quality services to make sure we ended up with everything we wanted.

Mindy Bush, 2010

Even though the plans for the remodel changed throughout the process, Matt and Jeff brought the project in on time and on budget. They were involved thoughout the job, helping us with subcontractors and our architect. They even designed portions of the project when things changed. We always knew where we were in terms of timing. Their employees and subcontractors were great to work with. Any time we had issues (which wasn't often), it was dealt with quickly and to our satisfaction. We couldn't be happier with the end result. We can wholeheartedly recommend KW Builders to anyone. Their timeliness, quality and attention to detail really distinguished them. Without a doubt, they helped us realize our vision of a new home, which our family is enjoying!

Bill Bush, 2009